Notre Dame gets defensive in win over WACO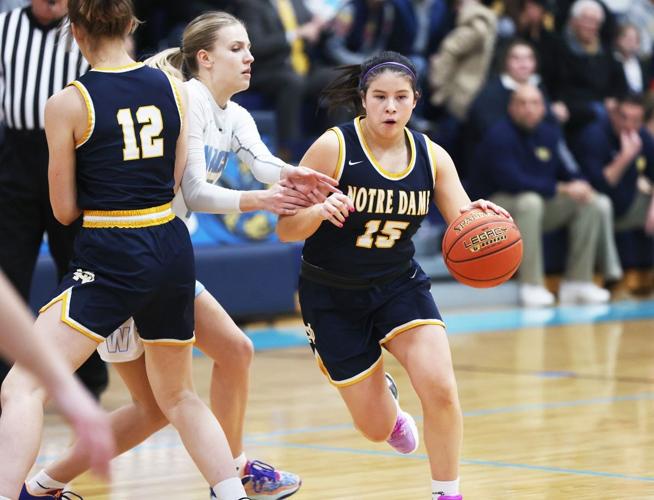 Notre Dame's Lauren Kreiger uses a screen by Abby Korschgen to get away from WACO's Ellah Kissell Tuesday at Wayland.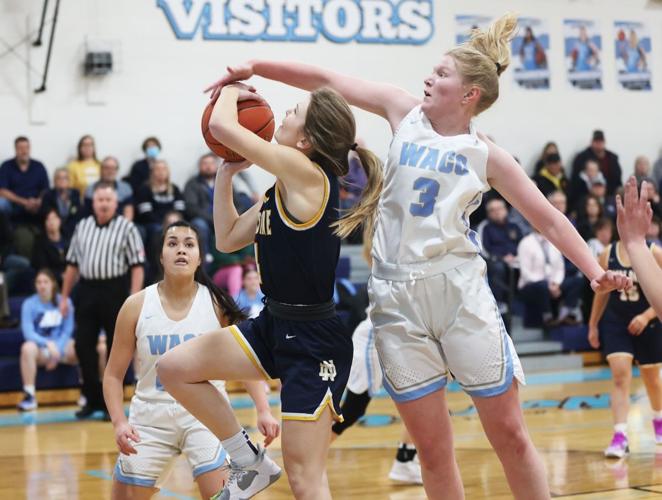 WACO's Grace Coble goes for a block on Notre Dame's Anna Engberg Tuesday at Wayland.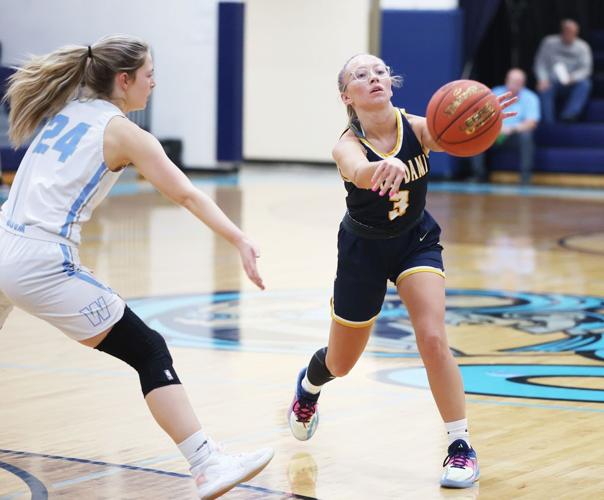 WAYLAND — Anna Engberg made just three field goals Tuesday night.
It just may have been the best basketball game of her life.
The Notre Dame High School junior face-guarded WACO senior Ellah Kissell from start to finish, hounding the Warriors' sharp-shooter every step of the way.
By the time it was over, Kissel had just 13 points, Engberg was drenched with sweat and the Nikes were celebrating a 57-41 victory in a Class 1A regional quarterfinal game at WACO High School.
The Nikes (18-6) came in with a game plan to shut down Kissell.
Notre Dame executed the plan to perfection and now earns a date against eighth-ranked Winfield-Mount Union (20-1) in a regional semifinal game at 7 p.m. Friday at Winfield.
WACO ends the season with a sparkling 18-5 record, but simply couldn't get Kissell free for shots to keep its season alive.
"I thought it was fun. I like competitive things like that, guarding the best," Engberg said.
"I think she was one of the best players on the court. I thought it was really fun. Coach likes me to come in off the bench with a lot of energy.
"That's what I was doing. Just have fun and guard her."
"Taryn Stephens and Anna Engberg did a good job of stepping up and shutting her down on the box-and-one," Krieger said.
"My teammates stepped up and really picked me up and helped us get to that win."
"We've been working on it for about a week now. Something different than what we've been doing. Something we might have to do down the line," Notre Dame head coach Corey Stephens said. "Anna did a great job on her tonight. Taryn was a little under the weather tonight, but Anna really stepped up and took over."
When Taryn Stephens needed a breather, Engberg was ready, willing and able to step up to the challenge.
Kissell was limited to just two points in the opening half on 0-for-9 shooting from the field.
"It was Taryn's assignment, but unfortunately Taryn got sick, so next man up," Engberg said.
"I was looking forward to it. It was a lot of fun."
"We know is she catches fire like she did a couple times, it's trouble," Stephens said.
"We have to make sure that we keep her under control."
Kissell found a hand in her face everywhere she went, but Grace Coble and Katie Leichty stepped up to keep the Warriors within striking distance.
Lauren Krieger seemed to have an answer for every WACO run.
Krieger buried five 3-pointers on her way to a game-high 19 points.
"That's my job. I'm there to shoot threes," Krieger said.
"Bring up the ball and get open shots for my teammates, too."
Notre Dame, which was beaten on the boards in the first half, cleaned the glass in the second 16 minutes, led by Gabby Deery, Abby Korschgen and Maddy Mosena.
Deery finished with 16 points, several on nifty turnaround jumpers in the lane.
Consecutive 3-pointers by Engberg and Krieger and a pair of Krieger free throws late in the third quarter gave the Nikes a 41-32 edge.
"I thought it was big," Engberg said. "Lo (Krieger) made some when we really needed them.
"That really got our momentum going and got us going on defense. Even when we miss them we have Abby and Gabby down low to rebound them and put them back up."
"We knew coming here was going to be a tough game," Krieger said.
"But we've been doing pretty well in the away games.
"We knew we had to stepped it up and secure the win."
Kissell rained in two long treys in the third quarter, then added another in the fourth, but was just 4-of-20 from the field on the night.
"I want to let the WACO announcers know, 'Thank you for the motivation," Stephens said.
"They say a lot on their podcast and steaming services.
"I want to let them know they really motivated us tonight."