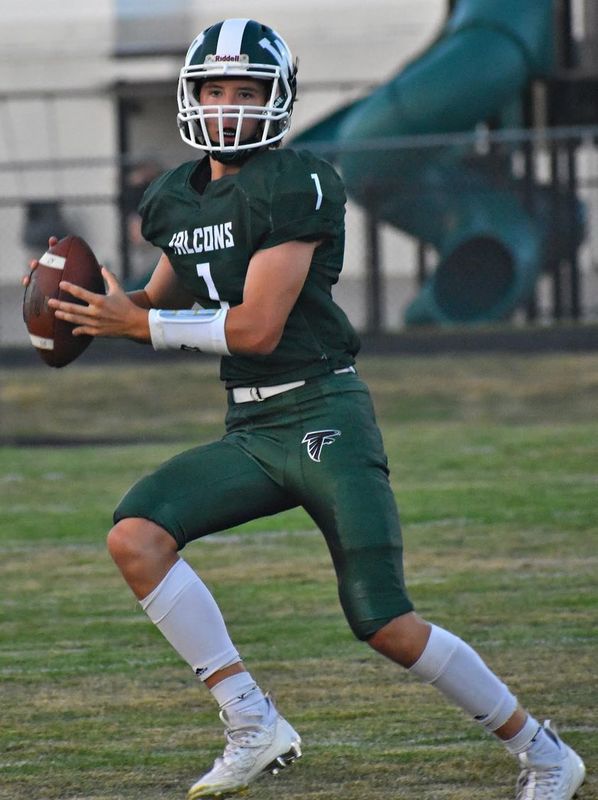 Falcons try to stop FM double threat
By Joe Geren
Beacon Sports
The West Burlington-Notre Dame football team must keep an eye on No. 5 on Friday (Sept. 2).
That's Fort Madison quarterback Aidan Boyer who accounted for 80 percent of the Bloodhounds' offense and all three of their touchdowns a week ago.
West Burlington-Notre Dame (0-1) hits the road to face Fort Madison (1-0) in Richmond Stadium at 7 p.m.
"I can tell you this, Coach (Derek) Doherty down in Fort Madison does a fantastic job," WB-ND Coach Joe Bowman said. "You talk about a program that we have our eye on that we would like to simulate.
"We expect them to play their 3-4 defense," Bowman said. "We expect them to be in their spread, maybe a little more quarterback run, run-heavy. We expect them to try to spread us out and then just run the football."
Last week in Fort Madison's 22-13 win over Keokuk, Boyer finished with 292 yards of total offense. He completed 12 of 21 passes for 186 yards and two touchdowns. He ran for another 106 yards and a touchdown on 21 carries, averaging five yards per carry.
Fort Madison's Henry Wiseman caught four of Boyer's tosses for 127 yards, a 31.8-yard average. Kane Williams had five catches for 27 yards.
If Boyer isn't running or passing, look for No. 2, Teague Smith. Against Keokuk, he averaged 5.1 yards a carry with 71 yards on 14 attempts.
The Falcons also opened the season last week, falling to Mid-Prairie, 28-18, at home. WB-ND led the game twice, at 12-7 and 18-14.WB-ND had opportunities.
"We did," Bowman said.
"When you have low numbers like we have it becomes more of a mental game, especially in that second half. Mid-Prairie is a very physical team. They play very hard. Hats off to them. They're very well-coached. They're very disciplined. They don't make many mistakes. With that, they are not fancy. They're going to line up and they're going to do what they're going to do. We were absolutely prepared for everything they were going to do. But in the second half, we started to get tired and we were giving up seams and giving up big carries."
"We were expecting them to be in a 4-3 like they have been for years and they showed up in a 3-3 stack," Bowman said. "We were prepared for it so that took some quick adjustments for the first series. But we practice against 4-3s and we practice against 3-3 and we practice against 3-4."
WB-ND was plagued by injuries last season but sustained no serious injuries in this year's opener.
"There was a lot of cramping," Bowman said. "A humid night, a lot of cramping. It was great to see Travain Donaldson back out there running.
He had a long run called back on a questionable call. I don't like to see the game put in the referees' hands like that, so I was disappointed about that call."
Donaldson still finished with 111 yards on 10 carries, including a 67-yard touchdown sprint that gave the Falcons the 12-7 lead.
Two years ago, as a sophomore, Donaldson ran for 1,324 yards and 16 touchdowns on 189 carries. Last year, he tore an anterior cruciate ligament and missed much of the season after gaining 301 yards on 65 touches.
Against Mid-Prairie, Hayden Vandenberg gained 18 yards on four carries. Quarterback Caden Schwenker completed 13 of 19 passes for 137 yards, including a 21-yard touchdown strike to Jack Riley. Schwenker added 39 yards on six carries.
Riley finished with three receptions for 34 yards. Dylan Kipp had one catch for 32 yards. Donaldson caught five balls for 24 yards, Quincy
Collins had one for 20 yards, Levi Fletcher-Bates had one catch for 17 yards and C.J. Davis added one for nine yards.
"These guys played their hearts out," Bowman said.
Photo by Joe Geren
West Burlington-Notre Dame quarterback Caden Schwenker rolls out for a pass in the first half of the Falcons' season opener on Aug. 26 at West Burlington. Schwenker completed 13 of 19 passes for 137 yards and a touchdown, but Mid-Prairie won the game, 28-18.