Nikes sweep home quadrangular
1 of 3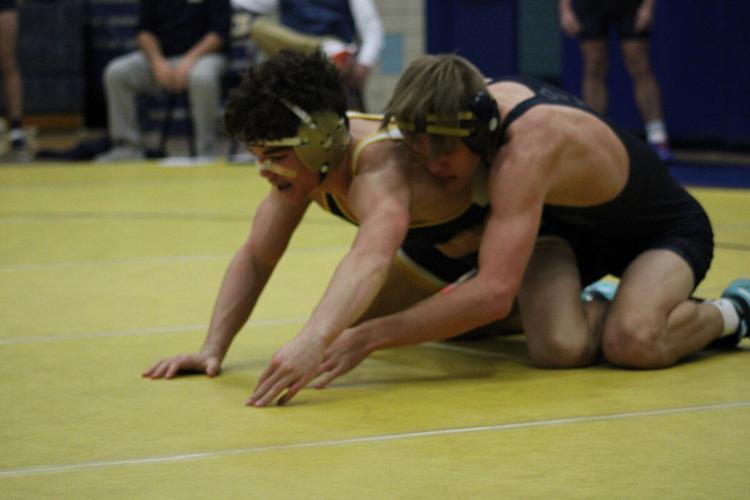 Notre Dame-West Burlington's Blake Wilson (top) controls Iowa City Regina's Will Atchison on his way to a victory Tuesday.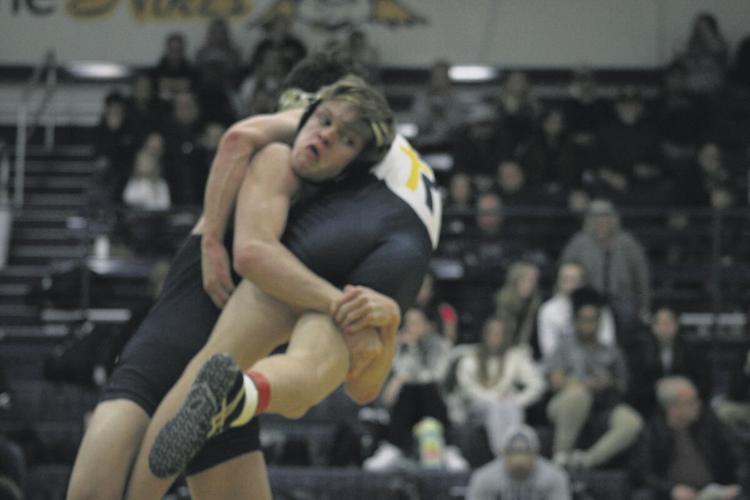 Notre Dame-West Burlington's Carter West won three matches Tuesday at the Nikes Duals.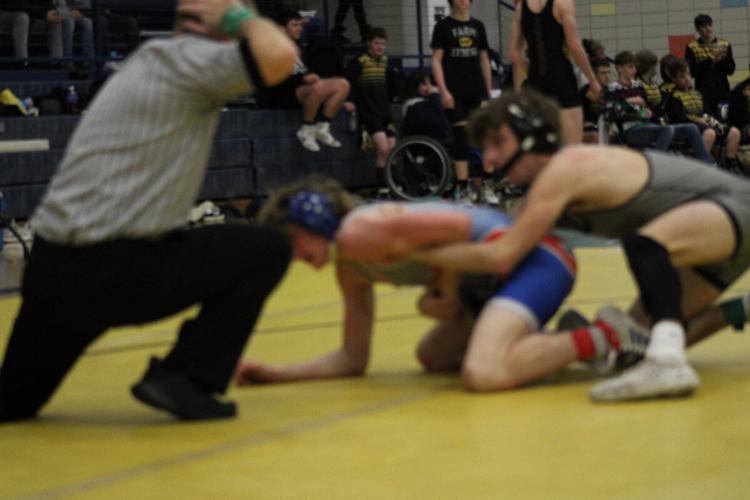 Notre Dame-West Burlington sophomore Cole Mincer (top) won all three of his matches by pin Tuesday at the Nike Duals at Father Minett Gymnasium.
Cole Mincer knows all about paying dues and hard work.
For years the Notre Dame High School sophomore has traipsed around the Midwest with his father, Bobby, wrenching on sprint cars that his father races.
On Sept. 17 at Spoon River Speedway in Canton, Illinois, Cole Mincer got his first chance to hop behind the wheel of a 410 sprint car.
For Mincer, it was the thrill of a lifetime.
With the dirt track racing season now in his rear-view mirror, Cole Mincer is creating memories of a different sort to share with his father.
On Tuesday, Mincer pinned all three of his opponents, helping Class 2A's second-ranked Notre Dame-West Burlington wrestling team to three victories in the annual Nike Duals at Father Minett Gymnasium.
For Cole Mincer, it's all part of putting his nose to the grindstone and working hard.
"I just had to come out with confidence and attack," Mincer said. "I came out early in the season kind of down on myself, but I have an amazing coach in Coach (Bill) Plein working with me on my confidence and it shows. He helped me believe I could do it and do it at a high level."
"He's being more confident in himself and more aggressive," Plein said. "When he comes out and he's aggressive, he's pretty tough."
Mincer credited workout partner Blake Wilson with helping him make impressive steps forward this season.
"He's my best friend and No. 1 workout partner," Mincer said. "We try to help each other as much as we can. We work out all the time."
ND-WB, the defending Class 2A state champion, beat Iowa City Regina, 57-10, beat Albia, 46-38 and downed Louisa-Muscatine, 60-18.
Joining Mincer with three wins on the night were Carter West (113), Kael Cook (120), Kaiden Dietzenbach (126), Blake Wilson (145), Isaiah Fenton (160) and CJ Walrath (182).
While those wrestlers did what was expected of them, Plein was more impressed with what happened through the middle of the order.
Kynnick Christofferson picked up a pin against Regina, Lyblie Christofferson had pins against Albia and Louisa-Muscatine, Emry Watson had a pin against Regina and Calvin Shafer picked up a pin in an extra match.
It is that portion of the lineup which ultimately will determine the Nikes' fate in most dual meets.
"I am really proud and happy with the kids' efforts tonight," Plein said. "Kaiden made a big sacrifice in weight tonight for us. Cole, Kynnick, Lyblie and Blake all wrestled extremely well. That middle of the lineup is big for us. We can really get some things going through there with those guys.
"Emry is really making improvements. If he had started earlier he could really be something big. Every match is important."
Notre Dame-West Burlington is off until Jan. 7 when it travels to compete in the Maquoketa Valley Tournament in Delhi