Notre Dame boys win third straight
1 of 2

Notre Dame's Liam Delaney (13) shoots against Mediapolis defenders Cole Lipper (5), left, Benjamin Egan (32), right, and Kamden Stotlar (10), back, Thursday at Father Minett Gymnasium.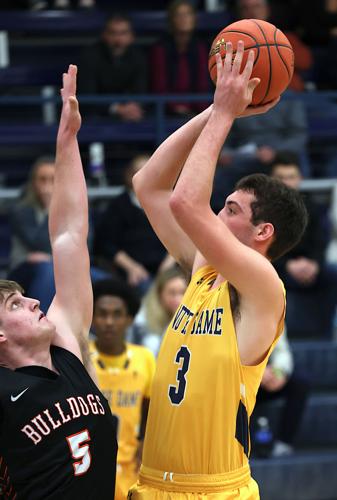 Notre Dame's Carsen Jones (3) shoots over Mediapolis defender Cole Lipper (5) Thursday at Father Minett Gymnasium in Burlington.
The Notre Dame High School boys' basketball team has picked up in the second half where it left before the Christmas break.
The Nikes made it three straight wins and seven of the last eight with a resounding 62-47 victory over Mediapolis in an SEI Superconference South Division game Thursday at Father Minett Gymnasium.
While it may not have been a dominating win, the Nikes continue to win and now find themselves just a game behind division-leading West Burlington heading into a tough stretch of games.
"I thought we played good in stretches," Notre Dame coach Dan Kies said. "We have given up too many offensive rebounds and second-chance points. We played well in stretches, but then in some spots we stopped moving the ball and gave up some second-chance points. But overall, I would say we played a pretty good game."
Notre Dame (8-2 overall, 5-2 South Division) raced out to a 16-10 lead after the opening stanza and took a 28-21 lead into halftime.
The Nikes used an 18-11 third quarter to break the game open.
Mediapolis (4-4, 2-4) battled back in the fourth quarter, but came up short.
"Our depth is pretty good. We are hoping to get healthier," Kies said.
Liam Delaney led all scorers with 16 points for the Nikes. Spencer Brent followed with 12 points, and Hunter Lillie contributed nine points. Ethan Todd and Carsen Jones each scored six points for the Nikes, while Gedi Boal had five points and Matthew Booten scored four points.
Cole Lipper led the Bulldogs with 11 points, while Max Griffin had 10 points, Jackson Hutchinson chipped in with nine points, Ben Egan finished with eight points, Kamden Stotlar scored five points and Lance Ludens tossed in four points.
"Mediapolis is a tough team to play," Kies said. "They are very physical. Lipper is very tough to deal with inside."
After traveling to play New London on Friday, Notre Dame hosts Class 3A Washington on Monday, then gets a rematch with Class 2A's fourth-ranked West Burlington on Tuesday at Father Minett Gymnasium.
"It's unfortunate that we don't get any days to practice. We play three games against three tough teams," Kies said. "We will just try to adjust on the fly.