Christofferson brothers make big impact for Nikes
1 of 2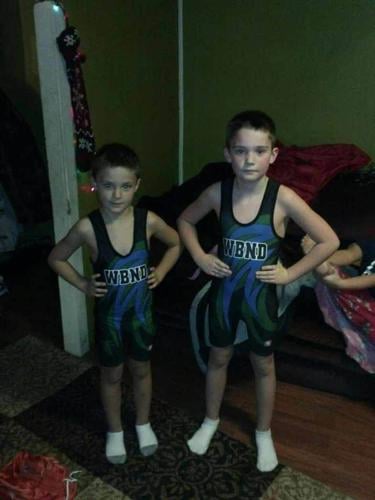 ND-WB wrestlers Kynnick (left) and Lyblie Christofferson started at a young age.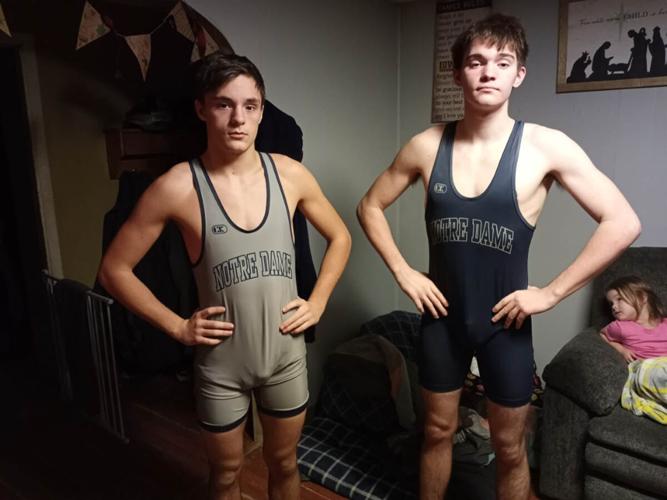 Notre Dame-West Burlington wrestlers Kynnick (left) and Lyblie Christofferson have played a key role the last four years.
Lyblie and Kynnick Christofferson don't have a wall full of awards or a case full of trophies and probably won't win any individual state championships in wrestling.
But without wrestlers like the the Christofferson brothers, the Notre Dame-West Burlington high school wrestling team may not have won the Class 2A state team championship a year ago.
While Lyblie and Kynnick Christofferson may not get the accolades of their more acclaimed teammates like CJ Walrath, Carter West, Isaiah Fenton, CJ Davis and Kaiden Dietzenbach, their contributions to the team are immeasurable.
The Christoffersons, like many others in the sport at the high school level, have a passion for wrestling and being part of something greater.
They are an essential part of the team.
"They are good, hard-working kids," said ND-WB head coach Bill Plein, who has led six teams to state championships in his Hall of Fame career. "Every year they have improved and they are always willing to take on any challenge. That's what you build a program on. You have your state championship-caliber team, but you have to have those blue-collar kids who are willing to put in the time and effort to help themselves and their teammates get better. I am very happy with their performance."
"I love our team. It's amazing. Every time we get together it's been so much fun," said Lyblie Christofferson, a senior who competes at 152 pounds for the Nikes. "Don't get pinned and get as many pins as possible. Our big guys, our really good guys — Isaiah, Walrath, Carter (West), Kael (Cook), all of them — they are really good. But they can't win on their own as far as team competitions. That's where guys like me and Kynnick come in. We have to step up. We can't get pinned. We have to get as many points as possible. At least make sure the other team doesn't get any points."
"It's the feeling you get when you go on the mat and you beat your opponent and you get your hand raised. When you see that winning record. It's that pride you feel. Also when you win as a team, it's how you feel when you win," said Kynnick, who wrestles at 138. "It's very rewarding. It makes you realize that you can't accomplish everything on your own. You need help from others. A good bond with others helps everyone find success."
Lyblie and Kynnick got their start in the sport at a very young age, each finding success almost immediately. But they tired of the sport by fifth grade, so they stepped away for a few years.
Recharged and more mature, they came back to the sport in eighth grade. Their renewed passion for the sport has been noticeable.
"I wrestled when I was younger," said former BHS four-sport athlete Chad Christofferson, the boys' father. "My wife (Nicole) was a wrestling manager for Burlington. The boys have always been aggressive, so I figured let's get them in there and see what they do. They started out young and were successful. But as they got older they lost interest for a little bit, so we stepped away. I was very excited when they told me they wanted to wrestle again. It's been awesome. They have put in a lot of work and done a lot of great things."
Neither Lyblie nor Kynnick has yet to qualify for the individual state tournament, but each got to participate in the State Dual Team Championships at Wells Fargo Arena in Des Moines a year ago. They helped the Nikes not only qualify, but finish seventh in Class 2A.
It was an experience neither ever will forget.
"I went out there and I just wanted to wrestle, and then I ended up being on the state champion team," Lyblie said. "I'm just a normal person, not a freak of nature like CJ Walrath. I have to try to live up to that expectation because he's the bar. He sets the standard. It's difficult. I try, but it's hard."
"It was super fun getting to wrestle on those six mats. We got to wrestle guys I've never heard of or probably never would have seen if I hadn't gone up to state duals," Kynnick said.
Lyblie and Kynnick may be brothers, but they have different body types and different wrestling styles.
Lyblie is long and lanky, but deceptively strong. Assistant coach Damon Loyd has helped him perfect a cradle which few wrestlers have been able to escape.
Kynnick is shorter, but has lightning-quick reflexes. He is able to use his speed and quickness to get into opponents' legs.
"CJ and Isaiah are elite wrestlers, but they have to have someone there who will show them different technique," Chad Chrisofferson said. "Lyblie being crazy strong makes a big difference for a lot of those guys. They can't go out there and throw Lyblie around. Kynnick is fast and quick. It's hard for them to get ahold of him because he is so slick and so quick. If Lyblie puts a cradle on you, you are going to get cradled."
The West Burlington High School student-athletes are an essential part of the team.
Lyblie Christofferson plans to go to Southeastern Community College and become an EMT. Kynnick plans to attend SCC and pursue a degree in zoology.
As proud as Chad Christofferson is of his sons, he gets teary-eyed talking about them as men.
"It's by far the most gratifying thing I've had in my life," Chad Christofferson said. "These two boys mean more to me than they will ever understand. They are two young men who aren't just incredible athletes, they are incredible young men.
"They are humble. They are kind. They treat people with respect. Ultimately, that's what it all boils down to. After wrestling is over, what kind of human being are they going to be? They are going to be state champion human beings, that's for sure.